Oh nothing, just chilling….
A boy and his best mate Sonar.
Dawwww…
A story of the love between Oki and Duckie.
NOOOOOOOOOOOOOOOOOOOOOOOO
don't fence me in!
Bentley, my handsome corgi.
True love is a corgi puppy*
*(ESPECIALLY because they grow up into corgi adults!)
Who's your favourite boy, then?!
Source: mycorgi.com
Keep Calm and Corgi On!
Source: mycorgi.com
The PERFECT way to spend a lazy afternoon!
Corgis. Get Some.
Why Corgi?
I firmly believe that corgis are wonderful, that they bring love and joy to the world like goofy funny furry fairies. I have chosen to answer the call and spread more of said love and joy to the world. I welcome you to do the same!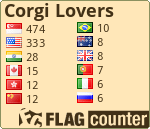 Submit to the corgi!
Ask
Twitter