Bentley, upon being told it's too darn hot to play outside today, is heartbroken.
A man and his corgi.
'Tis a wondrous thing!
Cricket likes the smell of Autumn! 
Some days, it's all I can do to get out of bed.
Corgi understands.
THESE ARE A FEW OF MY FAVOURITE THINGS!
I'M A GOOD BOY, AREN'T I?!?!
Source: mycorgi.com
Scooter needs a good scritching behind the ears.
Can you pls to scritch?
How do you expect me to get my full quote of beauty sleep when you continue to stick that camera in my face?
Good day to YOU!
I SAID GOOD DAY.
HEY.
No hating on the corgi, mmkay?
Source: terranqueen
What do you mean, the noms are IN the mug?!
Source: mycorgi.com
Corgis. Get Some.
Why Corgi?
I firmly believe that corgis are wonderful, that they bring love and joy to the world like goofy funny furry fairies. I have chosen to answer the call and spread more of said love and joy to the world. I welcome you to do the same!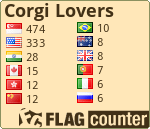 Submit to the corgi!
Ask
Twitter