Hi :) How old are Biscuit and Bentley by now? My puppy's turning 18 months next week, but I've decided to extent his puppydom till he's 3 yo, I think. LOL.
I think they stay puppies for at LEAST 3 years :D
Biscuit is 2 in a fortnight (daww, my little fluffykins is growing up!) and Bentley turned two in July. He's much more sensible than Biscuit, and sometimes I think he looks down his nose at her and her puppy ways.
30 October
1
Anonymous
Permalink
Corgi Puppy vs Ice Cube.
Your heart. Melted.
(shared over on FYCorgi FB page!)
I often get asked - Where do Corgis Come From?
Sir answers that age old riddle.
This photo perfectly epitomises their corgi personalities:
Bentley - Please, let me please you! I'm oh so obedient!
Biscuit - Pfft… No noms, no poses.
Biscuit proudly displays her fluffy bunny butt!
I'll take TWO!
Where's the corgi?!
Ollie is pooped!
Source: mycorgi.com
I interrupt your regular programming with an important PSA - not ALL corgis like to be reminded that they are;
floofy shorty pants
teeny tiny munchkin legs
midget bunnykins
fluffy puppy-wupkins
This corgi would prefer you called him Killer, and give him all the noms you have in your pockets NOW.
Normal broadcast has resumed.
You call this hidden?
Corgis. Get Some.
Why Corgi?
I firmly believe that corgis are wonderful, that they bring love and joy to the world like goofy funny furry fairies. I have chosen to answer the call and spread more of said love and joy to the world. I welcome you to do the same!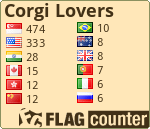 Submit to the corgi!
Ask
Twitter