I still don't understand why there were no corgis in baywatch… chekkit these action shots!
You rang?
Source: mycorgi.com
Why, HELLO there!
Source: mycorgi.com
Happy Halloween from Artie, the Great Pumpkin!
Happy Halloween from Delano! He's a lil' devil.
Iggy licks you!
Source: mycorgi.com
Hi :) How old are Biscuit and Bentley by now? My puppy's turning 18 months next week, but I've decided to extent his puppydom till he's 3 yo, I think. LOL.
I think they stay puppies for at LEAST 3 years :D
Biscuit is 2 in a fortnight (daww, my little fluffykins is growing up!) and Bentley turned two in July. He's much more sensible than Biscuit, and sometimes I think he looks down his nose at her and her puppy ways.
30 October
1
Anonymous
Permalink
Corgi Puppy vs Ice Cube.
Your heart. Melted.
(shared over on FYCorgi FB page!)
Corgis. Get Some.
Why Corgi?
I firmly believe that corgis are wonderful, that they bring love and joy to the world like goofy funny furry fairies. I have chosen to answer the call and spread more of said love and joy to the world. I welcome you to do the same!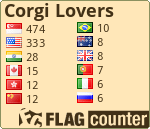 Submit to the corgi!
Ask
Twitter