What's frapping? I keep reading it on all the corgi blogs.
Allow Biscuit to demonstrate!
*FRAP - Frequent Random Acts of Play.
21 October
28
Anonymous
Permalink
I lick the cut 'o your jib, miladdie!
I's sitting, I's a good dog!
Source: mycorgi.com
Where's the corgi?!
Be vewwy vewwy qwiet, I'm hunting hedgehogs!
Source: mycorgi.com
Data sees what you're up to in there, sneaky human!
Source: mycorgi.com
Meet Kimchi! She lives in Indonesia.
She's brushed her toothypegs, put on her piggy jim jams, and she's off to sleepy bo-bo with Mr Moo.
Dawww…
Hi! :) Just wanna say congratulations on your baby boy. He's so cute :) And also, please rub Biscuit's and Bentley's bellies. They're just adorable and I can't get enough of them..
Thank you! I'm crazy about him :D
And consider Biscuit & Bentley's bellies rubbed! I also scritched their ears for good measure.
19 October
1
Anonymous
Permalink
No time for sleep, MOAR time for play!
Source: mycorgi.com
Corgis. Get Some.
Why Corgi?
I firmly believe that corgis are wonderful, that they bring love and joy to the world like goofy funny furry fairies. I have chosen to answer the call and spread more of said love and joy to the world. I welcome you to do the same!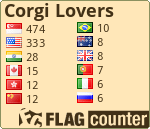 Submit to the corgi!
Ask
Twitter