All of these camping supplies would be unsatisfactory without THAT ONE. (Taken with Instagram at Folsom Lake)
The Madeline is 12.5 years old, was recently diagnosed with lymphoma, and we're treating her with chemo to make sure her happy corgi face stays happy for a long time. If I could ask all'a y'all to send out healing vibes to her while she goes through treatment, we'd be eternally grateful. She's doing well so far, and we're hoping to keep her swimming and playing and jumping through hoops for as long as possible. This photo was taken just two days ago, three weeks into chemo treatments. She swam in the lake and bounded up the hill. Modern pet medicine is amazing.
(submitted by punkassjim)
Corgi Healing vibes coming your way, Madeline!!
My corgi likes to put his fluffy butt on me to get my attention. Does yours do that?
OMG yes. Both of them - Bentley is the worst tho. He will accidentally back into you, and then if that doesn't work he will happen to roll on his back so he's lying across your feet. What can you do but give him a good scritching?!
Corgi is ensconced.
Please to quietly place noms at my feet, and leave.
I LOVE YOUR BLOG SO MUCH!!!!! Corgis are the most precious critters on the face of the earth along with kitties and chameleons. i could look at your blog all day. :D
Thank you!
If you manage to find a pic of a Corgi AND a chameleon, now THAT would be amazing!
One day, if you're very lucky and the Corgi Fairy smiles upon you, you too might discover a Peanut growing on your lawn!
(Submitted by richiedagger, Peanut's proud human)
I dog-sat my sister's corgi puppy last weekend. His name is Charlie, he's adorable, & he's also incredibly mean to my cat. My cat is 13. He can't handle stress. Charlie is not my favorite. But he is super cute.
Dear Hippie,
Charlie is ADORABLE! Pls to give him his due!

Kind regards,
Corgi lovers the world over.
Oh, you know, not much.
just chillin'
You?
Source: mycorgi.com
Corgis. Get Some.
Why Corgi?
I firmly believe that corgis are wonderful, that they bring love and joy to the world like goofy funny furry fairies. I have chosen to answer the call and spread more of said love and joy to the world. I welcome you to do the same!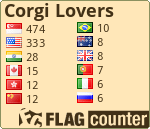 Submit to the corgi!
Ask
Twitter