Whenever I visit this blog, I always wish there was a "reblog all" option XD
Best. Blog. Ever. I adore corgis and unfortunately have no money/time to get one anytime soon, but I dream of having a corgi to love one day.
Fingers crossed you find your fluffy bunny butt corgi soon!
biscuit is literally my ideal corgi. super fluffy, stumptastic, long tail, silly. i want one of her!
Aw thank you! I'll give her a scritch from you!
I think he likes it up there.
Corgi. Thinks he's a parrot.
Corgis. Get Some.
Why Corgi?
I firmly believe that corgis are wonderful, that they bring love and joy to the world like goofy funny furry fairies. I have chosen to answer the call and spread more of said love and joy to the world. I welcome you to do the same!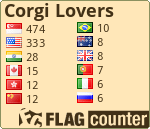 Submit to the corgi!
Ask
Twitter