This photo perfectly epitomises their corgi personalities:
Bentley - Please, let me please you! I'm oh so obedient!
Biscuit - Pfft… No noms, no poses.
Notes
scooterbiscuit reblogged this from corgiaddict and added:

OMG THESE NAMES ARE PEEEEERFECT
Corgis. Get Some.
Why Corgi?
I firmly believe that corgis are wonderful, that they bring love and joy to the world like goofy funny furry fairies. I have chosen to answer the call and spread more of said love and joy to the world. I welcome you to do the same!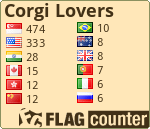 Submit to the corgi!
Ask