Ah-HA! Here we see a Corgi Tree (corgum splendiferous) in full bloom.
Note the lovely Corgi Grins, perfect for luring you in for a vigorous licking, from which your only escape is an equally enthusiastic scritching between the ears. 
Source: mycorgi.com
Notes
Corgis. Get Some.
Why Corgi?
I firmly believe that corgis are wonderful, that they bring love and joy to the world like goofy funny furry fairies. I have chosen to answer the call and spread more of said love and joy to the world. I welcome you to do the same!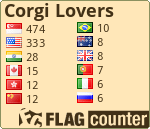 Submit to the corgi!
Ask