Here, Brook and Tryst display the fine and delicate art of Corgi Wrasslin'.
This complex ritual takes the form of dance, requiring both participants to alternatively submit and dominate each other. 
This is a perfect example of Movement #16, the mutual submission. If we were allowed to film this dance, we would hear the following formal dialogue;
Brook: You're handsome! You win!
Tryst: No, no, YOU'RE terribly good looking! You win!
Brook: I know you are, but what am I?
Tryst: Boy, YOU are a fine looking corgi.
Source: mycorgi.com
Notes
Corgis. Get Some.
Why Corgi?
I firmly believe that corgis are wonderful, that they bring love and joy to the world like goofy funny furry fairies. I have chosen to answer the call and spread more of said love and joy to the world. I welcome you to do the same!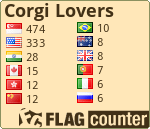 Submit to the corgi!
Ask