Just Corgi.
Source: mycorgi.com
Notes
juxtaposedposition reblogged this from fuckyeahcorgi and added:

So cute!!! I want a corgi!
Corgis. Get Some.
Why Corgi?
I firmly believe that corgis are wonderful, that they bring love and joy to the world like goofy funny furry fairies. I have chosen to answer the call and spread more of said love and joy to the world. I welcome you to do the same!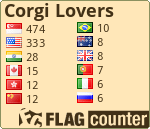 Submit to the corgi!
Ask