Oh no, I does not steal your icecream.
It was the cat.
I'm jus' making sure he didn't poison it for you…
Everything seems to be in order. Carry on.
Notes
Corgis. Get Some.
Why Corgi?
I firmly believe that corgis are wonderful, that they bring love and joy to the world like goofy funny furry fairies. I have chosen to answer the call and spread more of said love and joy to the world. I welcome you to do the same!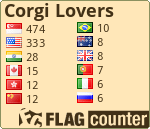 Submit to the corgi!
Ask