Post(s) tagged with "<3"
It's been one of those days.
Source: mycorgi.com
Look At This Resilient Dog of the Day: A Welsh Corgi named Ole, who managed to survive the avalanche that killed one of his owners, surprised his family by showing up four days later at their motel room in Cooke City, Montana.

"I just saw it outside sitting by the room, which is pretty amazing," said avalanche specialist Mark Staples.

Dave Gaillard of Bozeman was killed after being buried by an avalanche southeast of town in Hayden Creek. His wife Kerry managed to escape by clinging to a tree.

"His last words to me were, 'Retreat to the trees.' I think he saw what was coming from above, that I did not see. That reflects Dave's amazing quality — thinking of others," she told the Bozeman Daily Chronicle.

Ole was believed to have been buried under the snow as well, but must have tunneled his way out. Still, the trek back to Cooke City was likely treacherous, with temperatures below freezing, and deep snow that would be taxing for the dog's short legs.

"How in the world he made it, I don't know," said Kay Whittle, the wife of a local businessman who returned the pup to his family. "If he could just talk — who knows what he did from the day of the avalanche until today?"
How low can you go?
Corgi's got you beat.
Meet Ace!
He's ace!
(Submitted by mattaliano:)
Words cannot express….
Source: thedailycorgi.blogspot.com
Imma tummin to getchya!
How I heart him.
<3
Sup!
dstn:
RUBBA DUB DUB ONE PUP IN A TUB
<3
Corgis. Get Some.
Why Corgi?
I firmly believe that corgis are wonderful, that they bring love and joy to the world like goofy funny furry fairies. I have chosen to answer the call and spread more of said love and joy to the world. I welcome you to do the same!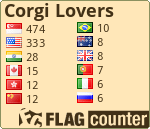 Submit to the corgi!
Ask
Twitter