Post(s) tagged with "animals"
corgi spam!
The very best kind of spam there is!
I could watch this ALL DAY.
And I'm pooped~
Source: dailypuppy.com
Boogie fuckin loves car rides.
<3 Boogie!
*snore*
Source: mycorgi.com
Corgis. Get Some.
Why Corgi?
I firmly believe that corgis are wonderful, that they bring love and joy to the world like goofy funny furry fairies. I have chosen to answer the call and spread more of said love and joy to the world. I welcome you to do the same!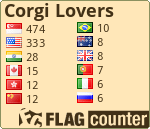 Submit to the corgi!
Ask
Twitter