Post(s) tagged with "animals"
Corgi lick you long time!!
(© Holly Hildreth 2011)
Do The Corgi Stride!
This dance move is quite popular at my place, beginning with a confident strut that always degenerates into waddling like a wombat, shaking your tail so much the rest of your body has no choice but to follow! Give it a try, you'll be glad you did.
Source: mycorgi.com
Ever had one of those days?
Puppy understands.
Source: Cute Overload
Trinket does her Dumbo impression.
It is Super Effective.
Your heart is broken.
You called the meeting, we came. What did you want to talk about?
Source: mycorgi.com
<3
Source: mycorgi.com
Methinks corgi puppy found the catnip!
Source: mycorgi.com
Kanoa, knowing his cuteness overcomes all, has claimed the futon mattress as his own.

Well played corgi, well played.
(Submitted by neurotically-motivated:)
Corgis. Get Some.
Why Corgi?
I firmly believe that corgis are wonderful, that they bring love and joy to the world like goofy funny furry fairies. I have chosen to answer the call and spread more of said love and joy to the world. I welcome you to do the same!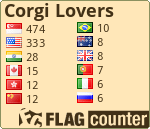 Submit to the corgi!
Ask
Twitter