Post(s) tagged with "animals"
Peaches demonstrates that even a bad angle is a good angle for a corgi!
Source: mycorgi.com
Corgi Fluffy Angel Love.
I just can't get enough!
The Classic Corgis.
Source: beautyineverything.com
Morning!
GPOYAYC

Gratuitous Picture of Yourself and Your Corgi

*one Corgis were annoyed in the taking of these photos*
Corgi is NOT impressed!
Whispering sweet nothings in Corbin's magnificent ears has unexpected results!
(Submitted by elmstsurvivor:)
Happy Birthday, Corbin!
Please.
Come at me, bro.
I rip out your throat.
Source: beautyineverything.com
Corgis. Get Some.
Why Corgi?
I firmly believe that corgis are wonderful, that they bring love and joy to the world like goofy funny furry fairies. I have chosen to answer the call and spread more of said love and joy to the world. I welcome you to do the same!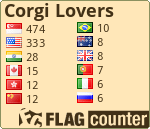 Submit to the corgi!
Ask
Twitter