Post(s) tagged with "bentley"
Bentley is quite chuffed to be divested of his winter floofiness!
Bentley, my handsome corgi.
Bentley and his bone - it's serious business!
Corgis. Get Some.
Why Corgi?
I firmly believe that corgis are wonderful, that they bring love and joy to the world like goofy funny furry fairies. I have chosen to answer the call and spread more of said love and joy to the world. I welcome you to do the same!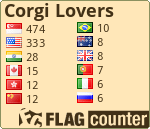 Submit to the corgi!
Ask
Twitter