Post(s) tagged with "berdang"
Bentley wants your opinion on his good side!
Biscuit sees what you did there, and she doesn't approve.
Bentley is quite chuffed to be divested of his winter floofiness!
Bentley, my handsome corgi.
Biscuit, on the other hand, enjoys life under the aircon vent. It's the very best place a (soon to be shaved) fluffy corgi can nap during summer!
This photo perfectly epitomises their corgi personalities:
Bentley - Please, let me please you! I'm oh so obedient!
Biscuit - Pfft… No noms, no poses.
Corgis. Get Some.
Why Corgi?
I firmly believe that corgis are wonderful, that they bring love and joy to the world like goofy funny furry fairies. I have chosen to answer the call and spread more of said love and joy to the world. I welcome you to do the same!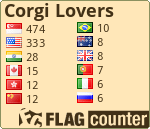 Submit to the corgi!
Ask
Twitter