Post(s) tagged with "berdang"
Corgi group portrait attempt #2 - just for Corgi Addict!
I tried to take a pic of Biscuit for you this morning with my phone, but as you can see she finds my attempts amusing :(
Meet Bentley! He'd like to wish you a Licky New Year!
That fluff has NOTHING to do with Biscuit, she swears!
Where's the corgi?!

Whew! Enough answers for now, both Biscuit and I are pooped!
Thanks guys for loving the Corgi! Now, shush and don't wake the puppy.
Biscuit in motion.
Now you see why I call Biscuit my fluffle bum!
Biscuit went through that awkward 11 week phase too :(
Source: fuckyeahcorgi
Hi!
She is a purebred! She's very fluffy (see here for a pic with her litter sisters, she's the only one where the recessive gene showed up) and it makes her look enormous! She weighs 12-13kg (adult weights range from 11 - 15kg) and turns 1 year old this month (my puppy is growing up!!). Her sisters are both show champions, alas the fluffiness is a 'flaw' but I can't complain since her inability to be shown or bred from is the only reason we could buy her.
In the next week or two Biscuit is going to get a good going over with a furminator and I'm hoping to end up with a photo like this as an end result! I'm excited.
Thanks for the question, Biscuit is one of my fave topics (can you tell?!)!
Corgis. Get Some.
Why Corgi?
I firmly believe that corgis are wonderful, that they bring love and joy to the world like goofy funny furry fairies. I have chosen to answer the call and spread more of said love and joy to the world. I welcome you to do the same!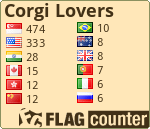 Submit to the corgi!
Ask
Twitter