Post(s) tagged with "birthday"
Tod, the Birthday Corgi, wants you to know he's been a very good boy.
Source: mycorgi.com
Happy Birthday to leighfountain! Sorry to hear you're feeling homesick today :( but hopefully some corgi licky cake will make you feel better!
Is it your birthday today? Someone wants to wish you a happy one!
And if it ISN'T your birthday, then happy UN-birthday to you!
Corgis. Get Some.
Why Corgi?
I firmly believe that corgis are wonderful, that they bring love and joy to the world like goofy funny furry fairies. I have chosen to answer the call and spread more of said love and joy to the world. I welcome you to do the same!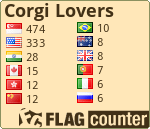 Submit to the corgi!
Ask
Twitter