Post(s) tagged with "cute"
Sterling wonders if you'd like to play!
Source: mycorgi.com
Luna left a present for you in your slipper…
The new co-worker is far too distracting…
Where's the corgi?!
And I was all like girl-FRIEND, that did not just happen!
*sigh*
I miss you.
That's corgilicious!
Corgis. Get Some.
Why Corgi?
I firmly believe that corgis are wonderful, that they bring love and joy to the world like goofy funny furry fairies. I have chosen to answer the call and spread more of said love and joy to the world. I welcome you to do the same!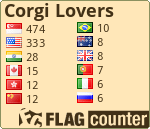 Submit to the corgi!
Ask
Twitter