Post(s) tagged with "dawww"
You know what? Let's just hang out around the house today and catch up.
Source: mycorgi.com
Meet Mr. Peanut, a street Corgi callmecaro  is taking care of until he finds the perfect home. Approximately 8 weeks old.
Dawwwww
True love is a corgi puppy*
*(ESPECIALLY because they grow up into corgi adults!)
Moose is morose :(
Source: mycorgi.com
The name's Aldus.
Watson Aldus.
He takes his noms shaken, not stirred.
(Taken by his grandpa at Jay Oliver Photography)
I often get asked - Where do Corgis Come From?
Sir answers that age old riddle.
Meet Romeo.
Romeo by name, Romeo by nature.
Source: mycorgi.com
Zombie, corgi puppy, is all tuckered out.
Source: mycorgi.com
bawx:
Me and Emmy (as the old crone from Drag Me to Hell)
Moar men & their corgis, pls!
Tiptoe through the tulips wif moi!
Source: pics.livedoor.com
Corgis. Get Some.
Why Corgi?
I firmly believe that corgis are wonderful, that they bring love and joy to the world like goofy funny furry fairies. I have chosen to answer the call and spread more of said love and joy to the world. I welcome you to do the same!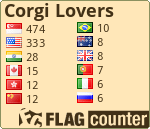 Submit to the corgi!
Ask
Twitter