Post(s) tagged with "dog"
Where's the corgi?!
*sigh*
I miss you.
We recently lost our furry little friend to illness, and we're pretty heartbroken about it, so I decided to put together a little memory reel to help us remember the good times. Putting this together has been cathartic, and very helpful for the grieving process.

Madeline was twelve and a half years old, so she truly had a good long life for a corgi. And there are countless photos and videos of her among all the people who have known her. The media in this video are just from the time I've known her, the last two years. Feels like she was in my life forever.
Vale, Madeline.
My Pembroke Welsh Corgi, Tyson! He's 12 weeks old in this pic.
Awww, hello Tyson! What lovely scritchable ears and a boopable nose you have!
Today I skipped my Feminist Film class to be lazy with Beryl.
Corgi approves!
Corgis. Get Some.
Why Corgi?
I firmly believe that corgis are wonderful, that they bring love and joy to the world like goofy funny furry fairies. I have chosen to answer the call and spread more of said love and joy to the world. I welcome you to do the same!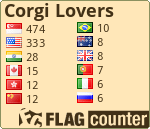 Submit to the corgi!
Ask
Twitter