Post(s) tagged with "duckie"
Corgi puppy embodies joy (and love of duck!)
Source: mycorgi.com
Ducklings adopt Corgi Yogi as their mum.
(if this isn't the cutest thing you've seen/read all day, and your heart isn't in puddles around your toes, I suspect you're a cylon.)
Source: news.discovery.com
Dexter VS Duckie - this time, it's personal!
Corgis. Get Some.
Why Corgi?
I firmly believe that corgis are wonderful, that they bring love and joy to the world like goofy funny furry fairies. I have chosen to answer the call and spread more of said love and joy to the world. I welcome you to do the same!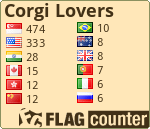 Submit to the corgi!
Ask
Twitter