Post(s) tagged with "fun"
Corgi licks your sofa.
BOOP!
Source: mycorgi.com
Now HERE is a show I could watch all day.
It's CORGIWatch!
What's "frapping"? Google was... not helpful.
FRAP - Frequent Random Acts of Play or Frenetic Random Acts of Play.
Corgis are renowned for it!
Here, let Biscuit demonstrate…
Silly corgi, princess kisses the frog, not the other way round!!
I'd pay MUCH more than 25c to wash these two!
Source: mycorgi.com
corgis in fancy dress, from nickdraws.com

(tipped off by tiffanyruns)
<3
Source: nickdraws.com
Corgis. Get Some.
Why Corgi?
I firmly believe that corgis are wonderful, that they bring love and joy to the world like goofy funny furry fairies. I have chosen to answer the call and spread more of said love and joy to the world. I welcome you to do the same!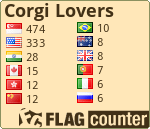 Submit to the corgi!
Ask
Twitter