Post(s) tagged with "licky"
Corgi licks your sofa.
Your monitor looks a little dusty.
Here, let me fix that for you.
Source: mycorgi.com
Oh no, I does not steal your icecream.
It was the cat.
I'm jus' making sure he didn't poison it for you…
Everything seems to be in order. Carry on.
Corgi lick you long time!!
(© Holly Hildreth 2011)
Pleased to meetchya!
Source: mycorgi.com
Few non-corgi people know this, but corgi noses are specially designed to fit behind your knee, and can be used as an expression of affection, a reminder that it is nom-o'clock, and a subtle hint that you could be walking faster!
(photo submitted by michfanguy:)
I don't think I ever post photos of him too much. =]

© Molly Poracky
Corgi licks you!
Meet the Lovely Licky Lola!
Source: mycorgi.com
Corgis. Get Some.
Why Corgi?
I firmly believe that corgis are wonderful, that they bring love and joy to the world like goofy funny furry fairies. I have chosen to answer the call and spread more of said love and joy to the world. I welcome you to do the same!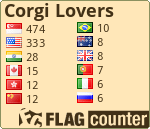 Submit to the corgi!
Ask
Twitter