Post(s) tagged with "love"
Wha' choo lookin' at?
Source: mycorgi.com
Walter says hi!
Pls to enter your CC details, so the internets can send moar noms!
Happy Christmas in July!
What better embodies the silly season that a silly corgi?!
Source: beautyineverything.com
Someone get Harper to the dog park, stat!
He's breaking my heart :(
This is Coco, my 6 month old corgi! 
Corgis are extremely rare here in the Philippines. And finding her was just fate. 
This was taken by my friend/photographer, Mig. Click his name and follow him! :) 
http://livinginthestills.tumblr.com/
~~
Welcome, Coco! And what a perfect demonstration of the corgi-lounge!
Corgis. Get Some.
Why Corgi?
I firmly believe that corgis are wonderful, that they bring love and joy to the world like goofy funny furry fairies. I have chosen to answer the call and spread more of said love and joy to the world. I welcome you to do the same!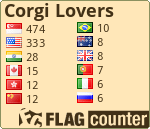 Submit to the corgi!
Ask
Twitter