Post(s) tagged with "love"
Sigh.
At least puppy's caboose is warm.
I think he likes it up there.
Corgi. Thinks he's a parrot.
Where's the corgi?!
Corgi dream time.
Saw this at target today! I need a corgi so I can buy this couch cover!!
Or maybe the couch cover comes with free corgi!
Corgis. Get Some.
Why Corgi?
I firmly believe that corgis are wonderful, that they bring love and joy to the world like goofy funny furry fairies. I have chosen to answer the call and spread more of said love and joy to the world. I welcome you to do the same!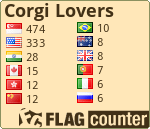 Submit to the corgi!
Ask
Twitter