Post(s) tagged with "love"
Corgi coming right for ya!
Corgi Puppy is secured.
My baby girl and I. You can totally see my CP in this photo, but you know what? I'm actually okay with this.

When I watched Thumbelina the other night it reinforce what I keep trying to tell myself- it's okay to be different. I'm getting back to my old self. I'm starting to love me again.
<3
Stoic Stella.
The Queen Mum and Pals.
Contemplative Silence with Corgi.
Source: mycorgi.com
Chewie welcomes Daddy home after deployment!
Dawwwww
Source: mycorgi.com
Biscuit sees what you did there, and she doesn't approve.
Brought our corgi, Copper, along for our engagement photo shoot. Copper managed to steal the spotlight.
(The addition of corgi to a romantic relationship is a wonderful thing!)
Where is that wascally ball hiding?
Source: mycorgi.com
Corgis. Get Some.
Why Corgi?
I firmly believe that corgis are wonderful, that they bring love and joy to the world like goofy funny furry fairies. I have chosen to answer the call and spread more of said love and joy to the world. I welcome you to do the same!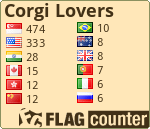 Submit to the corgi!
Ask
Twitter