Post(s) tagged with "man and his dog"
bawx:
Me and Emmy (as the old crone from Drag Me to Hell)
Moar men & their corgis, pls!
GPOYAYC

Gratuitous Picture of Yourself and Your Corgi

*one Corgis were annoyed in the taking of these photos*
Corgi is NOT impressed!
Corgis. Get Some.
Why Corgi?
I firmly believe that corgis are wonderful, that they bring love and joy to the world like goofy funny furry fairies. I have chosen to answer the call and spread more of said love and joy to the world. I welcome you to do the same!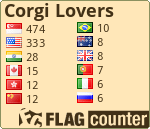 Submit to the corgi!
Ask
Twitter