Post(s) tagged with "submission"
Corgi Mythology! ⇢
"'Til one day they found two puppies
Found them playing in a hollow,
Playing like a pair of fox-cubs.
Burnished gold their coat and colour,
Shining like a piece of satin -
Short and straight and thick their forelegs
And their heads were like a fox's
But their eyes were kind and gentle;
Long of body were these dwarf dogs
And without a tail behind them."
follow the link above to read the whole poem!
Ein! <3
Oh no, I does not steal your icecream.
It was the cat.
I'm jus' making sure he didn't poison it for you…
Everything seems to be in order. Carry on.
Suzie, business corgi entrepreneur, is all about the green.
Green = noms, ya'll.
Corgis. Get Some.
Why Corgi?
I firmly believe that corgis are wonderful, that they bring love and joy to the world like goofy funny furry fairies. I have chosen to answer the call and spread more of said love and joy to the world. I welcome you to do the same!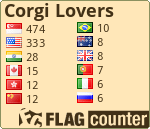 Submit to the corgi!
Ask
Twitter